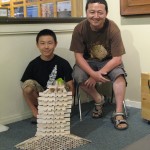 Mt. Shasta Sisson Museum provides education and entertainment for young and old!
Learn by doing experiments!
Opportunities for all to do fun, informative activities!
Easy directions and surprising results!
Family fun!
School Field Trips
Schedule your classes to visit the museum. Call 530-926-5508.
A variety of opportunities:
Schedule a tour led by museum volunteers.
Let your class view the exhibits on their own.
Ask for the museum volunteers about the latest round of interactive experiments that your class can do.
Schedule a guided tour of State Fish Hatchery too. Call 530-926-2215 and ask for Brian Rushton.
Quote from Lauren Miller, Butteville Elementary, "We really loved the field trip and will make it an annual thing if we can! I wouldn't change one thing about it! Perfect mix of activity, exploration and learning. The volunteers were amazing."

Fun for kids of all ages!